Since launching BitScope Micro with element14 late last year we now have many more customers than we used to !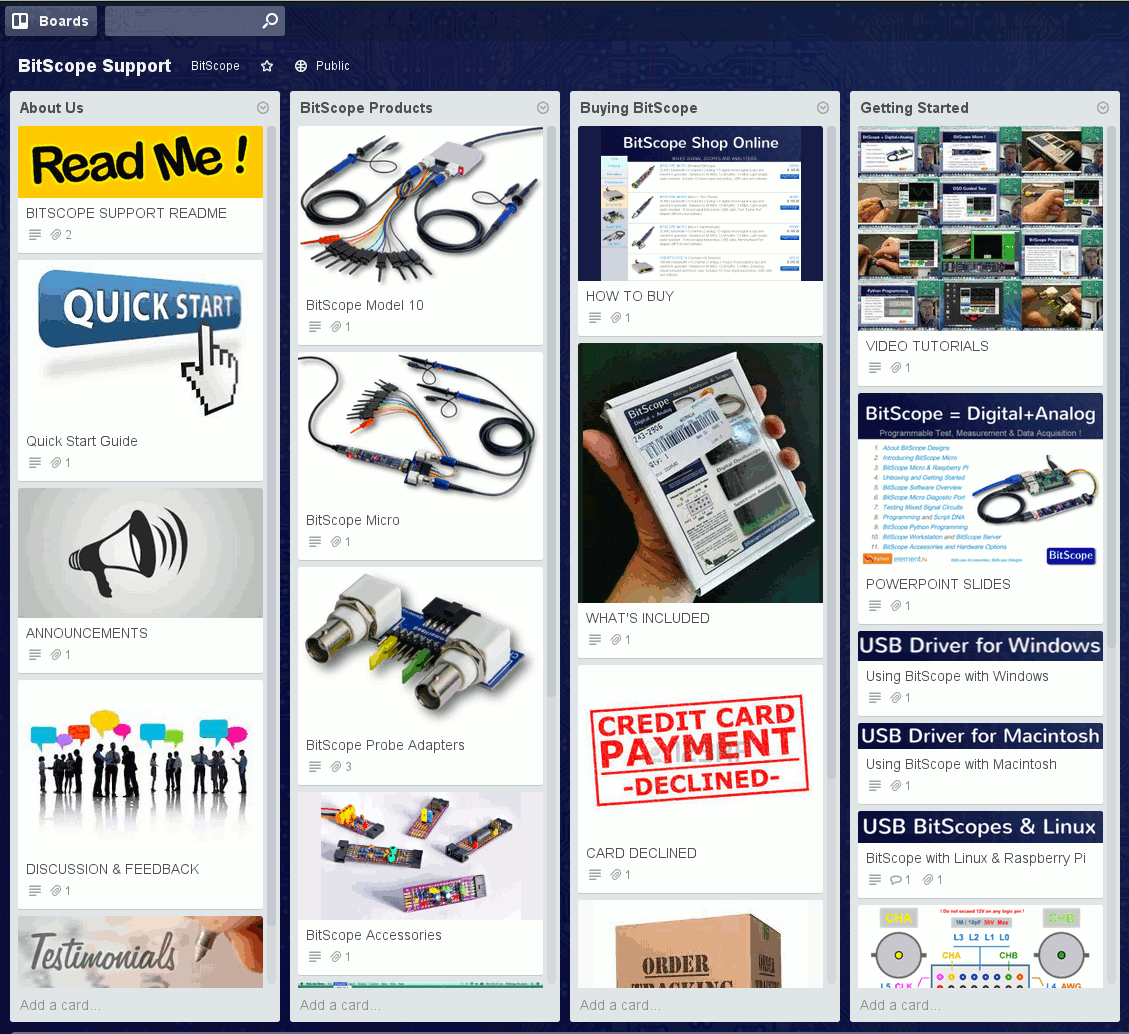 To ensure we can continue to meet your needs, we looked for a new system we could use to extend our email and online support to help answer all your questions.
We surveyed the market for a system we could use. We've chosen Trello and we're now using it to build a number of interactive BitScope Support Boards for you.
A Support Board presents lists of support cards. Each card answers one question.
We've created our first board for all your sales & support questions. You can leave feedback for us on the board too.
We will post new cards on the topics about which we receive the most enquiries.
When you visit the board for the first time you may be invited to sign up (free). You don't have to, but if you do, you will be able to comment on any card to leave feedback or ask questions (but please read this), subscribe to any card to receive update notifications when the card changes, and vote on any card to approve of its content or request a feature described by the card.
We may not respond to comments via the support board but we will read them. You can always email us to ask us any questions you cannot find answered on the board. If it's a common one we'll post a card answering it for everyone!
We will be publishing more boards (for developer support, bug and feature tracking etc). We'll have more updates soon (published via the board) and we welcome your feedback (email contacts). We hope you find it helpful !
Please see BitScope Support for more about the support board and other support options available.
Suffice to say we like Trello but in case you're wondering, we're not on the Trello payroll :)
Related Posts
| | | |
| --- | --- | --- |
| | Build a powerful mixed signal workstation with one simple 3D print ! | Sep 3 |
| | Physical Computing with BitScope, Blade and Raspberry Pi. | May 27 |
| | Raspberry Pi 3 Launch and BitScope Blade | Feb 29 |
| | Physical Computing with Raspberry Pi and BitScope! | Dec 01 |
| | BitScope, Ozberry & Pimoroni at Sydney Mini Maker Faire! | Aug 12 |
| | BitScope Blade for Raspberry Pi at Hannover Maker Faire! | Jun 05 |
| | BitScope DSO 2.9 Now Available. | Jun 02 |
| | Getting Started with BitScope | May 08 |
| | BitScope Micro In-Line Data Acquisition | Apr 02 |
| | Where to Buy BitScope Micro & Accessories. | Feb 19 |
| | Bootstrapping Raspberry Pi 2 for BitScope | Feb 05 |
| | Raspberry Pi 2 and BitScope Performance | Feb 02 |
| | BitScope Micro & Raspberry Pi in Education at BETT | Jan 21 |
| | BitScope Connection Ports Explained | Dec 19 |
| | Raspberry Pi Model A+ or B+ or B+ Slimline? | Nov 14 |
| | Electronic Measurement with BitScope & Raspberry Pi | Nov 12 |
| | Hands on with BitScope Micro at electronica 2014 | Nov 11 |
| | BitScope Micro Video Tutorial with Farnell element14 | Nov 10 |
| | BitScope Micro and Raspberry Pi at electronica 2014! | Nov 06 |
| | BitScope Micro element14 Webinar Review. | Nov 03 |
| | BitScope Micro Webinar with element14! | Oct 29 |
| | element14 launches BitScope Micro for Raspberry Pi! | Oct 27 |
| | BitScope Micro Diagnostic Port Explained. | Aug 16 |
| | MagPi talks Raspberry Pi B+, HATs & BitScope. | Aug 04 |
| | Raspberry Pi B+ BitScope x 4 = 8 analog + 32 logic ! | Aug 01 |
| | BitScope Model 10 or BitScope Micro? | Apr 25 |
| | BitScope Micro, what's in the box? | Apr 17 |
| | BitScope Micro Questions & Answers | Apr 12 |
| | BitScope Micro (New Product) for Raspberry Pi! | Apr 11 |
| | BitScope Workshop at OzBerryPi | Apr 8 |
| | BitScope Library V2 API Guide Published | Mar 21 |
| | Optimizing real-time waveform display for Raspberry Pi | Mar 17 |
| | Volume purchase discounts now available online! | Mar 11 |
| | BitScope Documentation Updated Online | Mar 05 |
| | BitScope DSO Version 2.6 Production Release | Mar 03 |
| | Low cost networked data acquisition with Raspberry Pi. | Dec 17 |
| | BitScope Server, shared remote access for any BitScope! | Dec 15 |
| | BitScope DSO updated for Server Compatibility | Dec 14 |
| | Collaborative Solutions, Online & Interactive Education. | Dec 09 |
| | Powerhouse ThinkSpace Digital Learning | Dec 04 |
| | The Sydney Mini Maker Faire Review. | Nov 28 |
| | BitScope Ed at the Sydney Mini Maker Faire! | Nov 20 |
| | BitScope Library V2.0 and Proto Scope Application | Nov 15 |
| | BitScope DSO, Logic, Chart, Meter and Library updated | Nov 12 |
| | Automated Waveform Analysis with Raspberry Pi | Nov 09 |
| | Reducing Quantization Noise with BitScope | Nov 08 |
| | Breadboard One, the 4 Bit Up/Down Counter | Nov 07 |
| | Using a USB BitScope with any Linux system. | Nov 05 |
| | Sydney BitScope, Online Demo Updated. | Oct 30 |
| | BitScope Touch Screen User Interface | Oct 28 |
| | Network access for USB BitScopes via Raspberry Pi. | Oct 24 |
| | BitScope is virtually indestructible, just as we intended! | Oct 23 |
| | BitScope Ed at OzBerryPi, Presentation Review. | Oct 21 |
| | BitScope and friends at OzBerryPi Maker Space | Oct 20 |
| | Vertical Offsets and Dual Channel Display | Oct 19 |
| | How to Install BitScope DSO on Raspberry Pi | Oct 18 |
| | Breadboard One, a typical Mixed Signal Circuit. | Oct 17 |
| | Electronic Projects Lab for Raspberry Pi | Oct 17 |
| | Dual Channel Active Differential Probe (New Product). | Oct 15 |
| | BitScope Smart Port. The clever connection. | Oct 12 |
| | BitScope Ed, an Educational Blog about Electronics. | Oct 09 |
| | Why the oscilloscope update rate is important. | Oct 06 |
| | Visualizing sound with Sonic Pi and BitScope | Oct 05 |
| | BitScope Software Blog Launched | Oct 04 |
| | Differential measurements matter, here's why... | Oct 01 |
| | How to Install Raspbian and BitScope on Raspberry Pi | Sep 29 |
| | BitScope Website Upgrade and Blog Launch | Sep 29 |
| | High speed data acquisition with Raspberry Pi | Sep 25 |
| | BitScope Software for Raspberry Pi Oscilloscope | Sep 27 |
| | BitScope DSO 2.7 update (for Raspberry Pi only) | Sep 24 |
| | BitScope Raspberry Pi Oscilloscope | Sep 20 |
| BitScope | BitScope DSO Tutorial Examples | Sep 09 |
| | | More... |